Bourbon Reviews: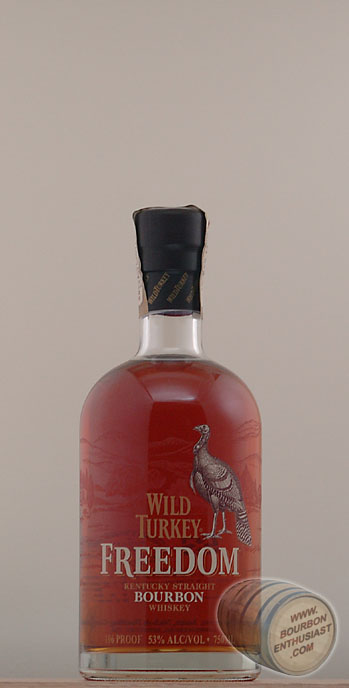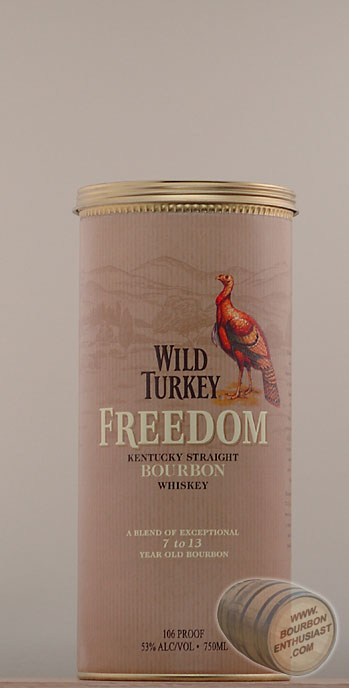 Bottling Name

Wild Turkey Freedom

Bottled By
Austin Nichols Distilling Co. Lawrenceburg,KY
Type

Kentucky Straight Bourbon Whiskey

Alcohol content

106 Proof

Availability

US: Not Available Japan: Not Available Duty Free: No Longer Available Europe: Not Available

Views (since 20080612)

6938

Bottling Info
<From their website> Wild Turkey Freedom is an exceptional 106 Proof blend of 7 to 9 year old bourbons, with the addition of a specially selected 13 year old bourbon for character and flavour. The result is chewy, rich bourbon with both power and finesse. Wild Turkey Freedom provides the classic Wild Turkey sweet vanilla and caramel scents, while the addition of the 13 year old bourbon adds complexity, with noticeable accents of oak and nutmeg. Mature vanilla and caramel flavours evolve on the palate with hints of honey and leather. The body is thick and soothing. The bourbon finishes with lingering notes of oak, leather and dried fruits.

This product is currently offered exclusively through DFS Galleria stores



Log in to be able to add your own review of this bottling.

&nbsp