Bourbon Reviews: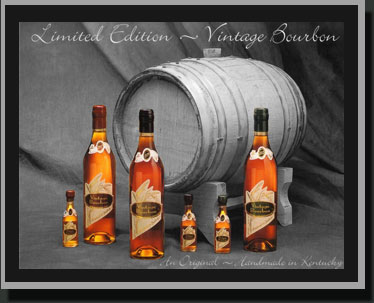 | | |
| --- | --- |
| Bottling Name | Vintage Bourbon |
| Bottled By | Kentucky Bourbon Distillers, Ltd. Bardstown,KY |
| Type | Kentucky Straight Bourbon Whiskey |
| Alcohol content | 94 Proof |
| Availability | US: Available Japan: Not Available Duty Free: Not Available Europe: Not Available |
| Age | 23 |
| Views (since 20080612) | 7054 |
| Bottling Info | |
Review from dnsouthky (BourbonEnthusiast Review ID 1568, Created:20090518210709)
Purchased at:

Lexington

Purchased for:

$89

Info on this bottle:

23 yr

Nose:
Very fruity -- Cherries? Peach? Maybe even a little Pear? Kinda like a friut salad smell of all three of these with a little cocunut in it.

Very Strong Molasses or Old Style Dark Brown Sugar.

Much different than the Vintage 17. The Vanilla is there but the carmell is so much stronger in this than it is in the 17yr old version. The smell of this bottle just reaches out and grabs hold of you making your mouth water waiting to try it.

The nose is almost over powered by the complex smells from this bottle. You can almost taste the smell of this bourbon it smells so good.
Taste:
Very Bold Taste.
The cocunt and Dark Brown Sugar are there with a little Black Strap Moasses. The bitter kind of Masses you cook with and make ginger bread with not kind you use on biscuts in the morning mixed with butter.
Has a very strong carmell taste, some vanilla, oak, smoke, a lot of molasses and a tangy spice taste of something I cant figure out.
Finish:

Long and extremly mild to have as bold a flavor as it does. (I know that doesnt make any sense to me reading it either but thats the way it finishs) The taste of the smoke and carmel seem to rule the finish. The finish of the Vintage 23 is stronger but not as long as the finish of the Vintage 17.

Overall:

I expected an older oaker version of Vingage 17 in this bottle and it is oaker but it isn't very much else as I expected. I expected to do a comparison of a few differences between vintage 17 and vintage 23, however they are so different they are almost like drinking two completely different bourbons.
Registered users can make comments on this review...Already registered? Log in here
---


Log in to be able to add your own review of this bottling.

&nbsp