Bourbon Reviews: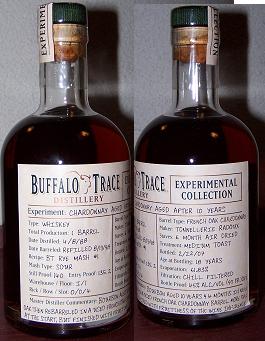 | | |
| --- | --- |
| Bottling Name | BTEC Chardonnay Finish |
| Bottled By | Buffalo Trace Distillery Frankfort,KY |
| Type | Whiskey |
| Alcohol content | 90 Proof |
| Availability | US: No Longer Available Japan: Not Available Duty Free: Not Available Europe: Not Available |
| Age | 10 |
| Views (since 20080612) | 6354 |
| Bottling Info | |
Review from spun_cookie (BourbonEnthusiast Review ID 1166, Created:20080623230952)
Purchased at:

Julio's

Info on this bottle:

~1.4 ounce pours

Nose:

Heavier wine on the nose here. I think I can tell it is Chardonnay now. Not as nice on the nose as the 6yrs

Taste:

Nice first taste... Very nice. Sweet, full fun

Finish:

A better wine finish that does not hurt the whiskey. Very nice, better on taste and finish that the 6yr

Overall:
Better of the two. Oddly, the longer they sit, the worst they get.

I am not sure how this would have been if there was 1-2 ounces and time to let it grow at I drank it.
Registered users can make comments on this review...Already registered? Log in here
---


Log in to be able to add your own review of this bottling.

&nbsp