Bourbon Reviews: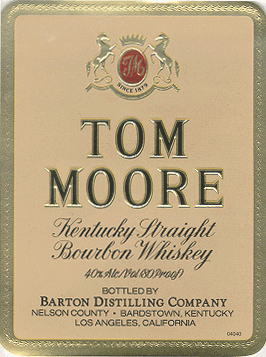 Bottling Name

Tom Moore

Bottled By
Barton Brands, Ltd. Bardstown,KY
Type

Kentucky Straight Bourbon Whiskey

Alcohol content

80 Proof

Availability

US: Available Japan: Unknown Duty Free: Unknown Europe: Unknown

Age

4

Views (since 20080612)

10468

Bottling Info
The original Barton Brand named for our founder. Heritage and package inspire trial. Authentic taste develops brand loyalty. <BartonBrands Website>

Amber with a copper cast. Medium-bodied. Notes of minerals, dried peach, dried herbs. Bright on the palate, though slighty pungent and astringent. Very refreshing, with a harmonious blend of aromatics. Lively, tart fruit finish. Barton Brands encourages responsible drinking. <Review from Buying Guide to Spirits reviewed by the Beverage Testing Institute, ??? 1999>



Product Label Photo courtesy BartonBrands Website
Review from drinkdrankdrunk (BourbonEnthusiast Review ID 1362, Created:20081122214621, Updated:20081123101344)
Purchased at:

Dallas

Purchased for:

$1.99 Half Pint

Info on this bottle:

Tom Moore Distiller 1978 Half-Pint

Proof Of this Bottle:

80

Nose:

Cherries and spice.

Taste:
Kinda thin and watery but with good burn and cherry flavor.
The 100 proof has a more coating consistancy to it and much more flavor from the start. Both are simple but tasty.
Finish:

Nothing up front but pretty explosive at the end . Lots of corn sweetness and surprising burn for an 80 proofer that lingers real good. The 100 proof initiates itself quickly, grabs hold and won't let go. It's got that perfect burn that is very appealing to me.

Overall:

I have to give old Tom his props. I prefer his 100 proof version better but this one is drinkable. The 100 proof bottling has been consistant over the years and I would be curious to try the current 80 to see if it is this good. Excellent budget bourbon.
Registered users can make comments on this review...Already registered? Log in here
---


Log in to be able to add your own review of this bottling.

&nbsp