Bourbon Reviews: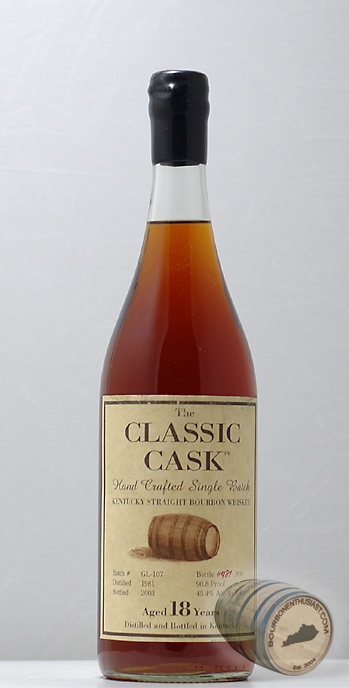 Bottling Name

The Classic Cask

Bottled By
Kentucky Bourbon Distillers, Ltd. Bardstown,KY
Type

Kentucky Straight Bourbon Whiskey

Alcohol content

90.8 Proof

Availability

US: Available Japan: Unknown Duty Free: Not Available Europe: Unknown

Age

18

Views (since 20080612)

6880

Bottling Info
<From bottle>

Hand Crafted Single Batch Kentucky Straight Bourbon Whiskey

Batch:GL-107
Distilled: 1981
Bottled: 2003
Bottle#: xxx/800

Distilled and Bottled in Kentucky
Review from Mike (BourbonEnthusiast Review ID 615, Created:20061025114038)
| | |
| --- | --- |
| Purchased at: | Sigman Bottle Shop, Conyers, GA |
| Purchased for: | $65 |
| Info on this bottle: | Bottle 603/800 Distilled 1981, Bottled 2003 |
| Proof Of this Bottle: | 90.8 |
| Nose: | Lots of wood, vanilla, nuts, brown sugar, light cream, and something like mineral spirits in the alcohol that seems decidedly out of place. |
| Taste: | Some sweetness and light spices, including some pepper. Dry tannins with a bit of the wrong kind of bite. |
| Finish: | Moderate but quite dry and woody. |
| Overall: | In the barrel too long in my opinion, not to its advantage. A big disappointment to me cause I was expecting much more from this bourbon!! A clear case of older ain't always better! Is this a bourbon that couldn't make the grade under another label?? |
Registered users can make comments on this review...Already registered? Log in here
---


Log in to be able to add your own review of this bottling.

&nbsp
Who is online
Registered users:

Bing [Bot]

,

Google [Bot]

,

Majestic-12 [Bot]