Bourbon Reviews: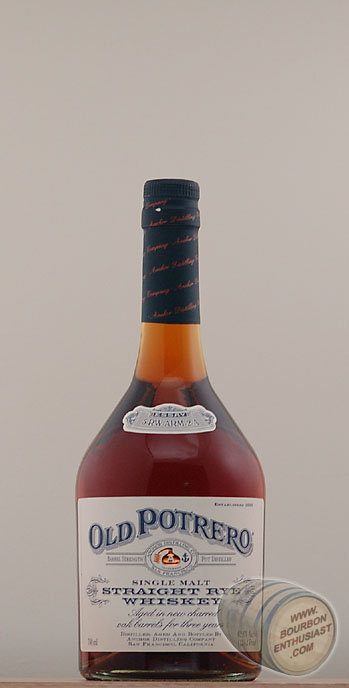 Bottling Name

Old Potrero Rye

Bottled By
Anchor Brewing Co. San Francisco,CA
Type

Straight Rye Whiskey

Alcohol content

125.2 Proof

Availability

US: Available Japan: Unknown Duty Free: Not Available Europe: Unknown

Views (since 20080612)

12408

Bottling Info
(From their site)

OLD POTRERO SINGLE MALT STRAIGHT RYE WHISKEY is an offshoot of our attempt to re-create the original whiskey of America. Distilled in a small copper pot still from a mash of 100% rye malt, it is aged for three years in new charred oak barrels at our small distillery on Potrero Hill in San Francisco. Rye was the grain of choice for America's first distillers, and when you taste Old Potrero you will see that using a mash consisting entirely of malted rye produces a whiskey with a wonderful character.

After Prohibition "rye whiskey" was precisely defined by the Federal Government to require aging in "charred new oak" barrels, and we have made this whiskey that way. The first American whiskeys were made in the 18th century, from rye, and in small copper pot stills, but it is unlikely that charred barrels were used. Although not the way it once was done, charred barrels lend a unique and interesting quality to whiskey. We hope you will enjoy comparing it to our other, more traditional, releases.
Review from bourbonv (BourbonEnthusiast Review ID 107)
| | |
| --- | --- |
| Purchased at: | Remains of the bottle from the tasting in Bardstown |
| Info on this bottle: | This bottle was supplied by the distillery for a tasting in Bardstown |
| Proof Of this Bottle: | 90 |
| Nose: | Very smoky and Scotch like. Old leather and molasses with a hint of Alspice. |
| Taste: | Rich molasses and spice with a hint of vanilla and fine leather. A Christmas cookie in a bottle. |
| Finish: | Very sweet molasses and spice that lingers for a minute and then simply becomes a bit smokey. |
| Overall: | Since this bottle was supplied by the distillery for a tasting for Whisky Magazine, I can not say that this is what you would get off the shelf in the liquor store. If it is then it is a winner worth buying. |
Registered users can make comments on this review...Already registered? Log in here
---


Log in to be able to add your own review of this bottling.

&nbsp